I am so excited to be finished with my Christmas unit!!!!
This Christmas themed unit is full of great literacy and math activities for your classroom.
Literacy:
ABC order
Syllables
Hidden words
CVC games
Letter/sound recognition game
Sentence Scramble
What letter is next?
Math
Count and write Numbers to 20
Order numbers 0-20 from least to greatest
Graphing
Positional words
Roll and count
Just click on the picture below to head to my store to purchase this unit!
I also took a few of the games and sold them separately if you are interested in just those!
And just because I love you so much, I'm throwing a CYBER MONDAY Sale on Monday and Tuesday!!!! Everything in my store will be 20% off in addition to the 10% off from TPT..that is 28% off total!
Wanna link up and join the sale fun? Click on 3AM's button below.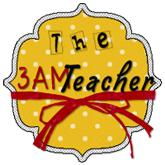 Make sure you check out all of these other great bloggers having a sale as well!