So...I'm joining my first every linky party. Woo Hoo! I am joining Go Forth With Owens linky party - 10 Things to Know About Me! Click her button and join too!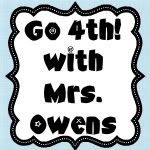 10. I LOVE to shop...like seriously...it's a problem!
9. I'm not an animal person...at all. Allergic to almost every animal. My poor daughter will never have a puppy. :(
8. I have Type 1 diabetes. I wasn't diagnosed until I was 28.
7. I can make my daughter's clothes...cute clothes like Matilda Jane that I cannot afford.
6. On that note...I would love to have my own children's clothing line, but I don't have the time.
5. We are big boaters. My husband LOVES the water, therefore so do my daugther and I.
4. I do.not.cook. There...I said it!
3. I would love to write a children's book one day.
2. I love to decorate for Christmas - Pink, Red, and Lime Green all the way. I usually decorate the weekend before Thanksgiving.
1. Our daughter is my favorite person in the whole wide world. I cannot get enough of her!