Caitlin
and I are so excited! We have over 40 people signed up for our Holly Bloggy Christmas!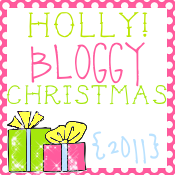 We have a few sponsors as well! Don't forget...if you are interested in being a sponsor and donating $5 to Toys for Tots, just click on the donate now button and shoot us an email that you will be sending us a file (game, center, worksheet, etc) and we will include it in the "virtual" stocking we are sending all participants on Christmas morning! You don't have to send us your file now....just before the beginning of December so we can get it all in one file and ready to send! You have a little over 2 more weeks to join us. We are working on some giveaways here or there for participants! Just grab our button and email us at
hollybloggychristmas@gmail.com
Click on
this
post to see the details or on my
Holly Bloggy Christmas page!