What? Christmas? Yep..that's right! Caitlin from
Ms. Preppy
and I are thinking Christmas.
How excited am I????? We are teaming up for a fun holiday exchange!

Years ago, I participated in a fun gift exchanged called

Pink Christmas where bloggers all got a secret pal and exchanged Christmas gifts.

Caitlin suggested we do this for our teacher blog friends and I thought it was a FABULOUS idea!

We're calling it a Holly Bloggy Christmas.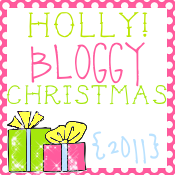 Here are the details:
-

Holly Bloggy Christmas is a Christmas gift exchange for members of the teacher blogging community.

Participants will receive a gift from another teacher blogger AND a virtual stocking full of teacher resources from our sponsors!

It is free to participate, but sponsorship options are available and all donations will go to support TOYS FOR TOTS.
-

Sign ups begin NOW and will last until October 31st.
-

In order to sign up, please send an email to
hollybloggychristmas@gmail.com
.

Copy and paste the questionnaire below into the body of the email and answer the questions.

We will send your answer to your secret pal, along with your address.

This information is TOP SECRET!
-

Caitlin

and I will put participant's names into a bowl and draw names to match you with your secret pal.

By November 10th, you will receive an email with the name of your secret pal and their answers to the questionnaire.
-

Get to crafting and/or shopping!

Be as creative as possible! There is a $15 limit before postage.

Before you place your gift in the mail, snap a picture and email it to us.

On Christmas we will post all of the pictures of the super fabulous gifts everyone received!
-

Send your wrapped gift in the mail (with delivery confirmation) by December 5th.

This way it has plenty of time to make it to your secret pal!
-

Open your gift on Christmas morning!

NO PEEKING!

We will have a linky party for everyone to link up to a post about their gift and their wonderful secret pal!
Want to sponsor Holly Bloggy Christmas?
-

Sponsorship is $5.

All money will go towards Toys for Tots.
-

Submit your donation via the paypal link below.
-

Sponsors have the opportunity to send us a product (unit, game, worksheet, etc.) that will be placed into a virtual stocking that all participants will receive on Christmas!

This is a great way to gain some exposure.

Please submit your product in PDF to
hollybloggychristmas@gmail.com
.
-

Sponsors will also have their blog button or TpT/Teacher's Notebook store button placed on the Holly Bloggy Christmas page of my blog and Caitlin's blog.
-

For every $5 donation you make, you may submit one product.
Holly Bloggy Christmas Secret Pal Questionnaire
1.

Full name or "teacher name" (for monogramming!)
4.

Blog/Website/Store - this will help your pal learn a little more about you (you don't have to have a blog to participate)
8.

Not-so favorite colors
9.

Give a little bit of information about yourself.

Married?

Kids?

Hobbies?
We are very excited and hope this will be a fun way to get to know each other better!

Please spread the word by posting about Holly Bloggy Christmas on your blog! Grab our buttons and add it to your sidebar!

The more participants we have, the more fun it will be!
Please email the questionnaire by October 31st if you wish to participate.

Feel free to contact me or Caitlin if you have questions.

Make sure you follow both of our blogs since we will take turns posting updates and you won't want to miss out on any important information!
Want to be a sponsor and donate to TOYS FOR TOTS? Do that here: